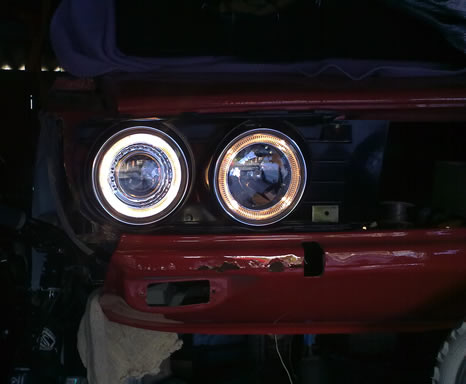 I thought i would post this for anyone fitting the BMW E30 Halo projector lights from DEPO . When you get the kit you get a loom to hook up the new Halo part but not for the rest of the kit. So unless you are fitting it to a BMW you will need the plugs for the main and dipped lights. It took me a little while to track down part numbers.Lots of BMW dealers in the US seem to stock them, but i had no luck with any UK ones showing, so it was off to my local BMW dealer with the part numbers on the off chance that they could get them.
How shocked was i when the parts guy looked them up and said "yep all in stock and they will be here tomorrow".
So you will need part numbers:
61131378403 for the outer dipped projector light. (yellow plug)
61131378401 for the inner full beam light. (white plug)
61131376202 are the pin connectors for the plugs. These are listed as "0,5-1,0MM" which im told is the wire thickness. The do ones up to 2.5MM, but as im wiring a classic car the ones i have are just right. For newer cars i would use the up to 2.5MM.
also if you need the plug to connect to wire in using the harness plug supplied you will need – part 61131378402 which is a grey socket.
All 3 sockets are slightly different shapes so you cant get just one and make them fit.
All these cost me £18 so not too bad a price. I have added some picture below so you can see the actual plugs and the lights they are fitted to.