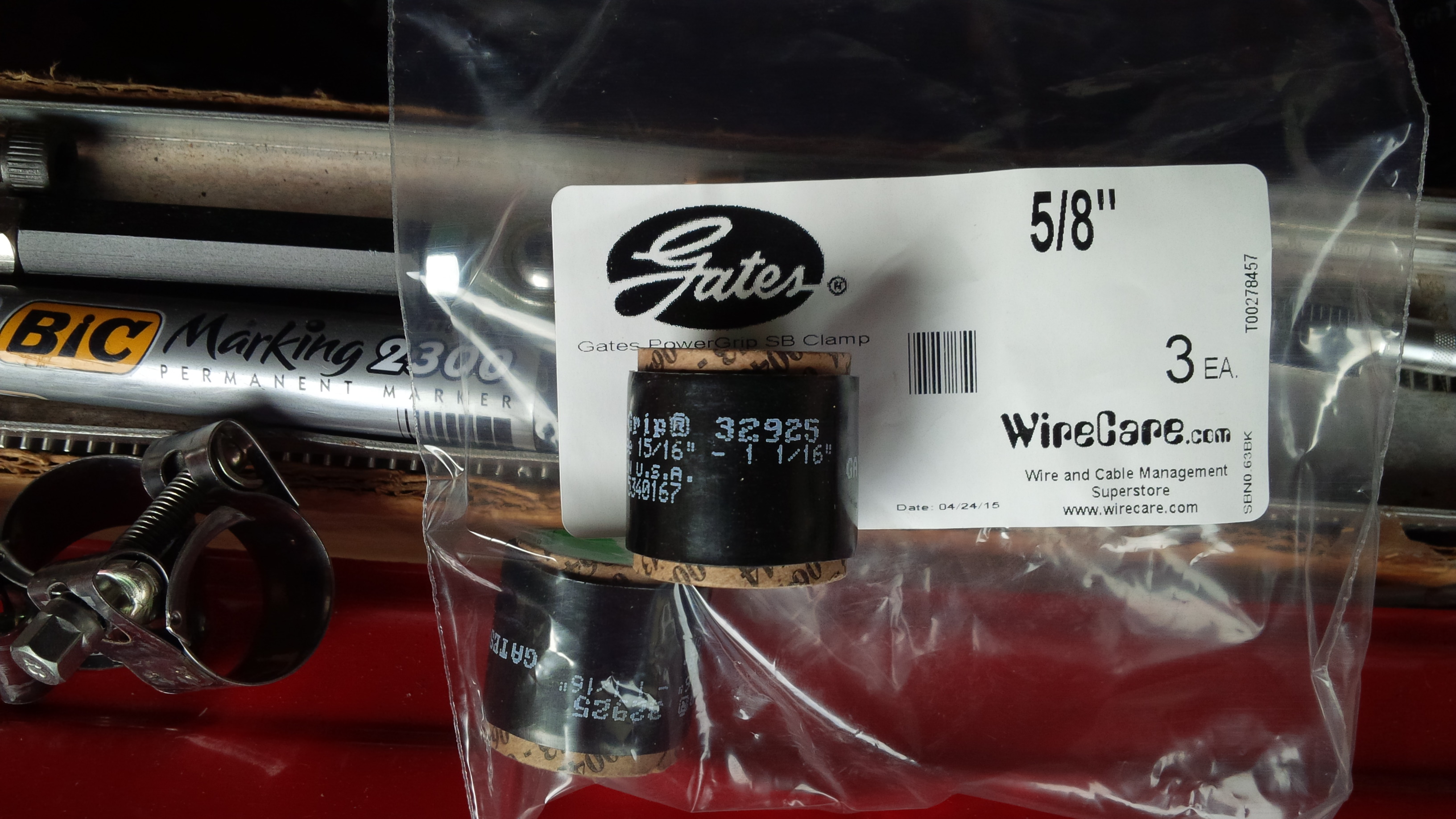 I had some custom silicon hoses made for me by JS performance, but the top hose was just a little big when fitted to the radiator outlet and would leak. And that was when it was cold so i was worried that it would be worse when under pressure. So the search for a solution began..
Could i get silicon tape and wrap the outlet to increase the size? An idea but not a great one, then one day i came across these "Gates Power Grip Clamps" all the blurb said that they would seal a hose connection better than a metal clamp, would not leak once fitted, even when it was could as they would grip tighter to hose. So it sounded like a great idea to put around the outlet, shrink it tight and then put the hose over and clamp up. Easy! so you would think, but no one stocks them in the UK, a lot of US companies only ship within the US not outside (and probably only holiday there! ) and the ones that did wanted an arm and a leg to send 🙁 until i found Wire Care www.wirecare.com who managed to get the cost to $28 so it was worth the punt. I ordered 2 clamps and a few weeks later they arrived. Funny little things.
Unfortunately i cocked up the sizing and they were just too small (i didn't want to risk a loose fitting) but after a test i was convinced they were the thing to get.
So back to wire care for another order (the clamps are only between $4 – $8 so dead cheap) this time i went for a few sizes and had a better idea of how the sizes work. They give you a shrink size and then the clamp has an actual size and all in inches and a tad confusing! So i ordered two to cover the outlet and one to go over the pipe as i knew that the clamping was even as it shrunk so no chance of distorting and causing issues with the outlet one. I also ordered a few more as the heater hoses are very hard to get metal clamps on and these take up no room when on so ideal.
You fit the clamp over the pipe and then use a heat gun to go all round the clamp and shrink it into place, simple.
So here are a few pictures of the outlet one fitted and the other ones going on and fitted to the water hoses. there is a nice little video on the wire care site too https://youtu.be/4O91YqHbp8c.
Sorting the outlet problem.
How the sizing works.
Fitting in tight places and a nice tidy engine bay.